What's in a name?
Our boat is named B 'n' G in loving memory of Robert's mother and father, Bob and Gayle. Two beautiful people who were taken from us in a car accident on December 24, 2003. They will be our guardian angels, watching over us, as we sail around the globe.
Every time the autohelm is on, we say "Bob and Gayle have the helm"
Top picture is our Catalina 320 MKII.
The second picture is our Hallberg-Rassy HR53.
See both stories below.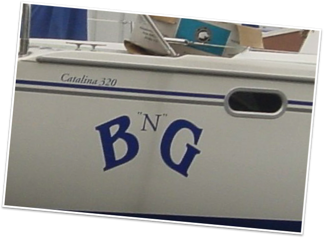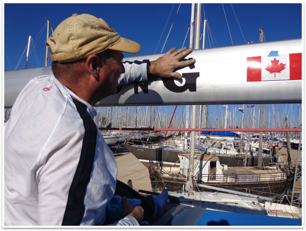 Also known as our Coastal B&G due to her nice shallow draft.
We purchased our Catalina 320 MkII in November 2005 out of Florida. Robert had a trailer built in Canada before leaving to pick her up. He drove to Florida with our Brother-in-law, Jim, who could help with the driving on the way back. Good thing Robert has a big bad Dodge Dooley Pickup since the roads were pretty icy by the time they got back to Canada.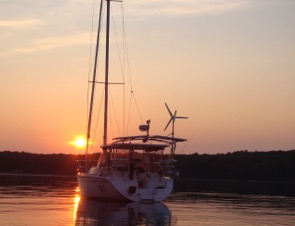 She spent the next 2 1/2 years on the hard (on land), while we worked on getting her outfitted and ready. We went to the Annapolis Boat Show, then the Chicago Boat Show, and also the Miami Boat Show to get ideas and talk to dealers and other sailors like ourselves.
The back property of the Stainless Steel Outfitters, in Barrie was home for our Catalina for a year and a half while they worked at building a new SS T-top and arch along with several other ideas Robert kept coming up with along the way. Our BBQ stand hangs off the aft and swings out so that none of the mess will fall on the boat. The back seats also hang back farther which gives more room within the cockpit area. Posts were designed to hold our radar and wind genny and a bow plate was installed to help protect her bow from any accidental bumps. A double anchor carrier on the bow, propane tank holder and fuel tank carrier on the stern are more useful additions made. Many people look at our boat and think she has a hard top, but it is actually a T-Top covered by canvass. Many thanks to John and Andrew at SSO for the help and patience with our project.
We purchased and installed solar panels and a wind genny, and reconfigured all the electronics. John from Hotwire Industries came up from Florida to help with the rework of the wiring and installation of many of the components.
Robert spent a lot of time on the computer researching and purchasing all sorts of equipment including a water maker, and compressor so we could fill our own dive tanks while in remote locals. It seemed like every other day new parcels were arriving at our door to be installed on the boat.
Just as with a house, our boat will be our home, so improvements will continue to be made as long as we own her. Robert never seems to run out of good ideas!
In June 2014, our beloved Catalina went to a new home in Georgian Bay, Canada where her new owners, Peter and Susan would take her on the next adventure.