Our Beginning, August 1998
Just add water, mix & stir
We were both in the throws of a divorce and looking for a change. It didn't take us long to figure out we were good for each other.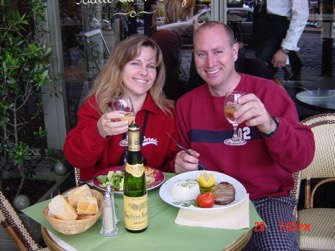 We found that we had two passions in common when we first met. We were both certified open water divers, and we both loved to go dancing.
We spent our first few years together having fun and getting to know each other. In the fall of 1999 we joined the Barrie Curling Club and found a new sport we both enjoyed during those long Canadian winters. In the summers we would take long trips on Robert's Venture motorcycle exploring new areas of Canada and the USA. In 2000 Robert purchased a new Goldwing and we continued to travel the open road during the summers. This was the start of our traveling bug.
In the fall of 2002 we made the big decision to move in together. Cathy sold her house and she moved into Robert's house. It was in November 2003 that we made the first big jump to purchase our first sailboat. With Robert's many years of experience on the water he already had a good background of practical knowledge, but we enrolled in the Canadian Power and Sail Squadron out of Orillia, Ontario so that we could both learn the rules and how-tos together. We then decided to get some on-the-water training on an actual sailboat. So we took the Beginner and then the Intermediate Keelboat Cruising courses through Humber College in Toronto, Ontario. In addition to this we decided that getting some blue water experience would also be beneficial. So we joined the Sail OPO (Offshore Passage Opportunities) program run by Hank Schmit. Since then, Robert has done a few deliveries and crewed in the New York to Bermuda Rally in June 2009.
In the summer of 2009 the house at Halls Lake went up for sale. Then came our house in Barrie. All the plans were coming together to prepare for our May 2010 departure.