Catherine Irene Sauvé, CGA
Her story, as told by Robert McConnell
My partner, my admiral, my boat wench. Someone who I have sold my goals and dreams of sailing around the world on a space no bigger than most people's livingroom. Cathy's passion to live life without regrets and kicking the can as hard as you can, makes us a perfect match. Together, we will share experiences that most can only dream of.
Here is the rest of her story.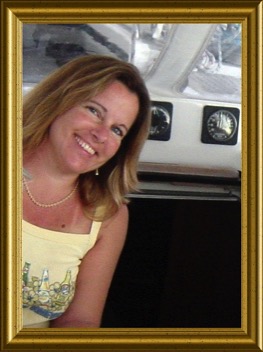 Cathy, the daughter of Pearl Richards and Marcel Sauvé, was born in Noranda, Quebec April of 1961. She is the youngest of three children. Being the youngest, she was spoiled rotten by her sister Shaylene and brother Rick.
She did most of her public school years in Chomedey, Quebec, and completed high school in Hamilton, Ontario. In her younger days, Cathy was very competitive in Gymnastics and then at 17 became a CFL Hamilton Tiger-Cat cheerleader. I am still trying to get her to wear the uniform.
After high school she went to work in the Accounting Department of a manufacturing company in Guelph, Ontario. If you know Cathy you know Accounting is her game. She enrolled in the Certified General Accountants (CGA) program taking courses part time while she worked from 1984 to 1994 when she received her CGA designation.
During those same ten years, she got married and started a family. Her daughter Pamela was born in 1984 and her son Michael was born in 1986. Working, going to school, and raising a family all at the same time, she is no stranger to multi-tasking. Which is a good thing, because it prepared her for meeting me (Robert) in 1998.
Among her favorite pass-times are going dancing, curling, scuba diving, and, of course, sailing. Cathy also has a natural ability with computers and software and is the builder and maintainer of our website.
I am glad our two ships collided. Together we will draw on each others strengths to succeed in our world travel adventure.